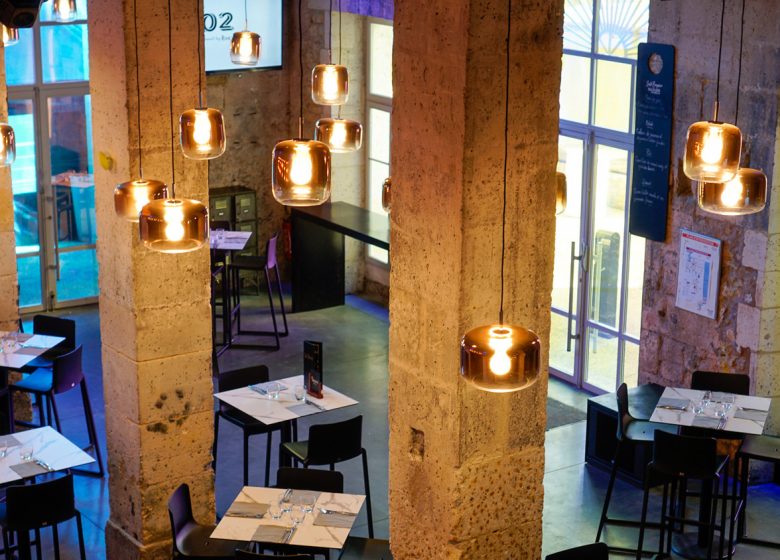 Meeting point for Angoulême gourmets along the water.
Our chef offers 2 types of cuisine for 2 different atmospheres.
For the dining room, a more bistronomic approach to take advantage of this cozy atmosphere and for the cellar, elegant and authentic bistro cuisine that will be enjoyed alongside tapas on standing tables in a relaxed atmosphere.
Every lunchtime a creative, generous and fast formula is suggested to you.
Our cuisine is designed with fresh quality products and we highlight the richness of our terroirs, as for example with the Limousin meat from "Chez Mr l'Evêque" or the arrivals of fish from the Côtinière auction.
Restaurant
Culinary specialties
Offers "homemade" dishes
Traditional french cuisine
See more
Capacity
3 room (s)
3 air-conditioned room (s)
150 place setting (s) maximum
150 place settings on the terrace
Opening
From: 01 / 10 / 2023 To: 07 / 06 / 2024
Open Tuesday from 11 a.m. to 15 p.m. Wednesday from 11 a.m. to 15 p.m. and from 18 p.m. to midnight. Thursday and Friday from 0 a.m. to 11 p.m. and from 15 p.m. to 18 a.m. Saturday from 2 p.m. to 18 a.m.
Exceptional closings on January 1 and December 25.
Closed the evening of December 24.
Pricing
Price

Adult menu

From October 01, 2023 to June 07, 2024

maximum € 33

Children's menu

From October 01, 2023 to June 07, 2024

maximum € 10

Menu of the day

From October 01, 2023 to June 07, 2024

maximum € 10
Payment
Bank / credit card
Restaurant Title
Cash
American Express
Classic Holiday Vouchers
Bank transfer