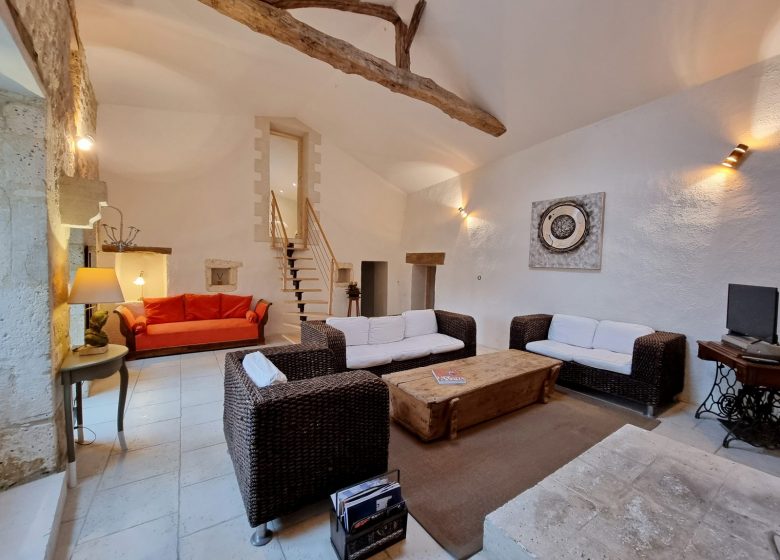 A holiday cottage with 3 bedrooms, in the Charente, 15 minutes from Angoulême
If by chance, your steps lead you to the lair of the Wolf Rock, there is no doubt that your awakened senses will fall under the spell of these places. You are welcomed by an ancestral forest where the oaks watch over 300 years of history. At the turn of the bicentenary maple and the boxwood, a house takes shape according to the sinuosities of the bedrock. Dominique and François have renovated a gite there in the respect of the stone, bringing comfort and above all by infusing it with a spirit "like at home". Surrounded by 25 ha of forest sheltered from prying eyes, serenity in your soul, you taste the simple pleasures of a stay made up of walks, the pleasure of contemplating the horses in the surrounding meadow, evenings to the sound of the crackling fire and a unique meeting of the Charente, rich in history and culture.
The cottage consists of a large living room of more than 35 m2, a beautiful kitchen with its private terrace, 3 beautiful bedrooms with the possibility of adding extra beds, a bathroom and a WC.
The cottage is located one hour from Bordeaux, one hour forty-five from La Rochelle, one hour from Royan, half an hour from Cognac, one hour and a quarter from Poitiers and only a quarter of an hour from Angoulême.
Ranking & labels
4 stars
Announcement of an individual
Capacity
Maximum possible capacity: 7
3 double bed(s)
1 single bed(s)
Area: 115 m²
Prices
Price

2-XNUMX nights

From January 01, 2023 to December 31, 2023

maximum € 350

3-XNUMX nights

From January 01, 2023 to December 31, 2023

maximum € 420

4-XNUMX nights

From January 01, 2023 to December 31, 2023

maximum € 525

5-XNUMX nights

From January 01, 2023 to December 31, 2023

maximum € 595

6-XNUMX nights

From January 01, 2023 to December 31, 2023

maximum € 665

Week

From January 01, 2023 to December 31, 2023

maximum € 700

Caution

From January 01, 2023 to December 31, 2023

maximum € 80

Cleaning package at the end of the stay

From January 01, 2023 to December 31, 2023

maximum € 80
Option: wood 60 €
Payment options
Cheque
Bank / credit card
Cash
Services
Reduced mobility
Adapted tourism
Not wheelchair accessible
Multimedia area
Videos