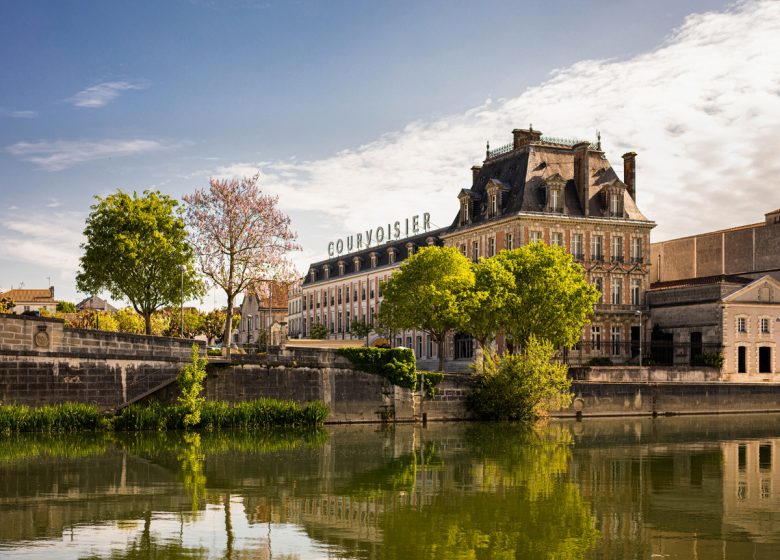 On the banks of the Charente, Maison Courvoisier has been sublimating each eaux-de-vie since 1828 through the delicate art of distillation, aging and blending. Through their fruity and floral character, our cognacs reveal the spirit of the House.
Maison Courvoisier was founded in 1828 in Jarnac, in the heart of the Cognac region, by the charismatic Félix Courvoisier, with the idea of ​​celebrating the joy of living on a daily basis.

At the end of his life, Félix Courvoisier sold his House to two of his nephews, the Curlier brothers. It was under the impetus of Jules and Félix Curlier from 1866, then of the Simon family, the historical negotiators of the House in the United Kingdom, from 1909, that the reputation of the Maison Courvoisier radiated beyond national borders. and made its entrance, first at the Imperial Court of Napoleon III as an Official Supplier, then on the tables of the Royal Courts of England, Denmark or even Sweden. Tasted on the occasion of the inauguration of the Eiffel Tower or the Moulin Rouge in Paris, Napoleon's Cognac has also established itself in France since the Belle Époque as the emblem of French excellence. To date, Courvoisier is the only Cognac House to have received France's Prestige Gold Medal – twice, in 1983 and in 2021.

Today, the most awarded Cognac House in the world* is redefining the standards of cognac, paying homage to its exceptional history, and celebrating the future by unveiling a new brand universe embodying the "joie de vivre", a French precept by Excellency.

*Based on the top 20 spirits competitions since 2019.
Opening
From 01/01 to 09/04/2023
Open Tuesday and Thursday from 14 p.m. to 18 p.m.

From 10/04 to 02/09/2023
Tuesday, Wednesday, Thursday, Friday and Saturday from 10:15 a.m. to 13 p.m. and from 14 p.m. to 18:30 p.m.
Prices
Free access shop.
Tour circuit: adult rate €20 / child rate (12-17 years old) €5.
Free for children under 12 years
Payment options
Bank / credit card
Cheque
Cash
Services
Equipments
Toilets
Parking lot
Parking nearby
Coach parking
See more
Services
Property sale
Shop
Wifi Internet access
Tourist Documentation
Guided tours
See more
Reduced mobility
Tourism and Handicap brand - hearing impairment
Tourism and Handicap brand - mental disability
Tourism and Handicap brand - visual impairment