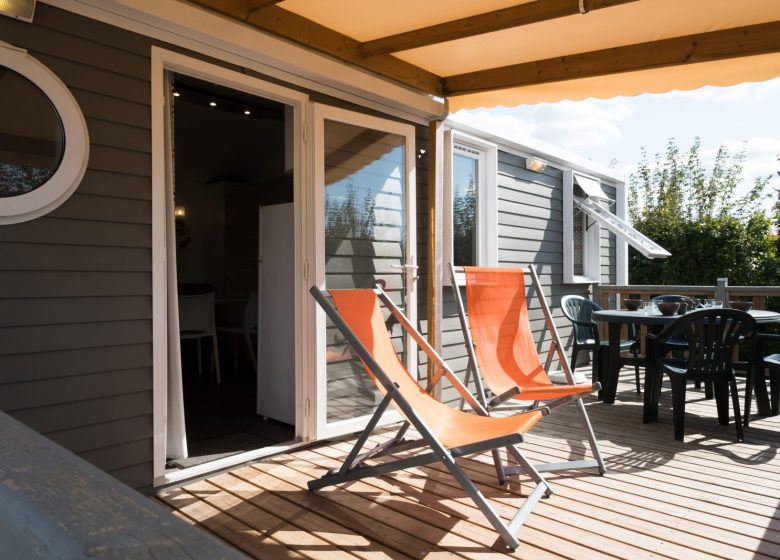 The Grand Angoulême **** campsite is 5 minutes from the Grande Prairie lake and the Nautilis aquatic centre. Calm, family and natural environment.
Need to receive your family for a few days?
An important meeting and a lot of employees to accommodate?
Is your leisure center looking to organize a summer camp without straying too far from Angoulême?
Want to organize an GA in an original place?
Have you thought about Camping du Plan d'eau?

A stone's throw from the Grande Prairie lake, the sailing base and Nautilis, we meet at the campsite from April 1st for a stay for two, with the family, for family or professional events.
With its heated swimming pool, its playgrounds, its restaurant, it is an ideal place to find yourself in the green while being close to Angoulême which can be reached by strolling along the green corridor.

The Plan d'eau campsite has 17 mobile homes with 2 to 7 places that can accommodate visitors from two nights, 138 large camping pitches and a motorhome area with 14 places.
It is also a restaurant open to everyone from April 15 where you can meet around delicious homemade dishes, cooked from fresh and seasonal products. Anne-Sophie, Thierry, Gilles and the entire Bistrot team will be able to tell you about each of the products they have carefully selected to delight the most gourmet.
At the Bistrot du camping, we eat local but we also dance local! Friday is concert night, often accompanied by a huge paella on the Plancha. A must for beautiful spring, summer or autumn evenings.

The Camping and Bistro team can provide you with all the answers you need for a peaceful stay in a natural environment.

To follow us: @campingplandeau and @bistrotducamping on Facebook


The Green Coulee
We are located near the green belt, a 20 km long cycle path which runs along the Charente river and which connects the campsite to the city center of Angoulême during a bike ride of around 30 min.
- http://www.angouleme-tourisme.com/la-coulee-verte
- http://www.angouleme-tourisme.com/la-coulee-verte

The Grande Prairie Body of Water
We are a 5-minute walk from the Grande Prairie lake around which you will find a supervised and free swimming area, play areas for children, an Aquajump park (inflatable structures on the water), a base sailing, a snack, a merry-go-round...
- http://www.saintyrieixsurcharente.fr/page_interne.php?id_page=106
- http://www.angouleme-tourisme.com/1291-plan-d-eau-de-la-grande-prairie
- https://www.facebook.com/Aquajump-16-194066327885732/

NAUSER
We are also a 10-minute walk from the Nautilis aquatic center for which we have negotiated preferential rates for our campers.
- http://www.nautilis.fr/
- https://www.facebook.com/nautilis

LA FLOW VELO - an inspiring route
At the gates of the South-West, this chic and bucolic cycle route, 290 km long, connects the island of Aix in Charente-Maritime to Thiviers in Dordogne. From Rochefort, it flirts with the Charente river for a rejuvenating journey, crisscrossing a setting of vineyards, passing through Saintes, Cognac, Angoulême before taking the greenway "La Coulée d'Oc" and making an incursion into the Regional Natural Park of Périgord.
- https://www.laflowvelo.com/

All information on tourism:
- http://www.angouleme-tourisme.com/
- https://www.infiniment-charentes.com/
- https://www.facebook.com/grandangoulemeculture/

All information on the department of Charente:
- https://www.lacharente.fr/

Want to know more about our equipment? Check out our campsite's digital welcome guide!
https://notre.guide/campingduplandeau
Ranking & labels
4 stars
Outdoor Hospitality Federation
Circuits of France_POI
Sustainable development label
The Green Key
Cycling Home Label
Scandiberic
The Flow Bike
The Tour Charente
Opening
From 01 / 04 to 16 / 10
Open every day.
Prices
Price

Flat rate

From April 01, 2023 to October 16, 2023

maximum € 3,50

Electricity price / day

From April 01, 2023 to October 16, 2023

maximum € 4,80

Adult price / day

From April 01, 2023 to October 16, 2023

maximum € 5,75

Child price / day

From April 01, 2023 to October 16, 2023

maximum € 2,80

Caravan price / day

From April 01, 2023 to October 16, 2023

maximum € 24,30

Motorhome pitch price

From April 01, 2023 to October 16, 2023

maximum € 12,30

Price tent / day

From April 01, 2023 to October 16, 2023

maximum € 11

Car price / day

From April 01, 2023 to October 16, 2023

maximum € 2,90

Mobile home rental week

From April 01, 2023 to October 16, 2023

+ 9.20 € Rental booking fees

maximum € 930

Weekend mobile home rental

From April 01, 2023 to October 16, 2023

+ 9.20 € Rental booking fees

maximum € 152
Payment options
Cheque
Bank / credit card
Cash
Vacation check
Online payment
Bank transfer
Services
Reduced mobility
Tourism and Handicap brand - hearing impairment
Tourism and Handicap brand - mental disability
Tourism and Handicap brand - motor impairment
Tourism and Handicap brand - visual impairment
Adapted tourism
Adapted services for hearing loss
Adapted services for visual impairment
Accessible for self-propelled wheelchairs