Add to favorites
Long sung as "one of the most beautiful streams in the kingdom", the Charente river, 360km long, has its source in Chéronnac in Haute-Vienne.
The Charente is first and foremost memories of childhood for many Angoumois residents: games around the washhouse, picnics on Marquet Island, swimming at the Bain des Dames...

But follow the thread of the Charente along its banks thanks to the Green belt, it is to learn to know its history taking a cruise means riding a pedal boat on its calm waters, savor festive evenings on its shores…
Water, source of life, nourishes our land and allows people to fulfill themselves.
A little bit of history
A canoe, discovered in Bourg Charente, indicates that prehistoric men sailed on the Charente almost 4500 years ago.

The Charente river was used to transport goods to the port of Rochefort in Charente-Maritime. The gabares (flat-bottomed boats) transported paper, brandy or stones downstream. These barges then went up the river, laden with spices, salt or fish.

Towards the end of the 18th century, 29 locks were built to improve conditions for merchant navigation. With the arrival of rail transport at the end of the 19th century, the waterway was gradually abandoned.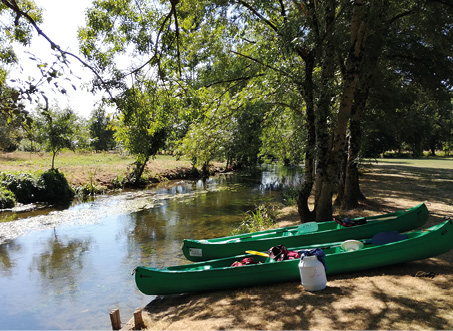 Nautical activities
Nowadays, the Charente river remains essentially the heart of a green paradise, ideal for all kinds of activities.leisure water activities, from boating to swimming. Embark on the Charente, cast off the moorings and come and contemplate the time of a languorous stroll of a day or a longer stay, the uninterrupted spectacle of the reflections of a flora scintillating with its thousand shades and playing with the rays of southwest sun.