Add to favorites
Great deals all year round! The agglomerations of Saintes, Grand Cognac and Grand Angoulême have in common an identity drawn by the passage of the Charente river and the Flow Vélo.
This territory is marked by many vines intended for the production of world-renowned eaux-de-vie, in particular within the framework of the labeling process for the know-how of Cognac, in the intangible cultural heritage of UNESCO.

This common identity is also found in the remarkable heritage of our 3 territories. This is why we wanted to share it with you through this Angoulême-Cognac-Saintes Discovery Pass.

With this Pass' in your hands, you have an exhaustive tourist and cultural offer and advantages to take advantage of it as fully as possible.

Need a change of scenery? Whether as a family, as a couple or alone, this is the right time to let yourself be inspired by these ideas of discovery between the Pays d'Angoulême, Grand Cognac and Saintes….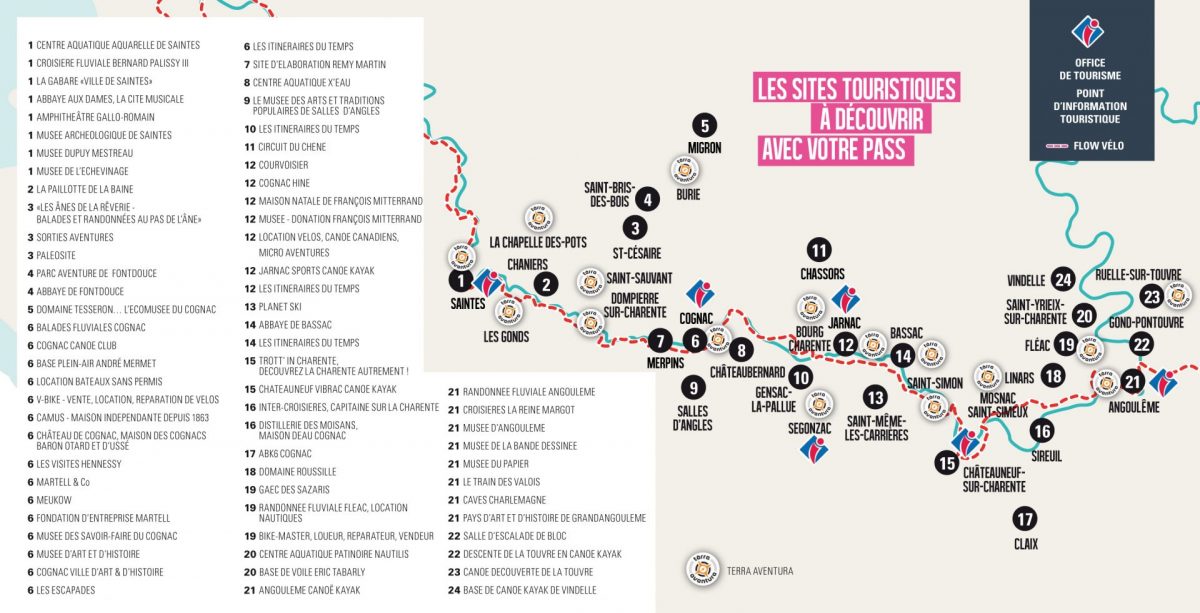 How to use the pass?
1. Select a Discovery Pass site or activity
2. Introduce yourself to this partner
3. Pay your entry, night or boarding full price
4. Receive or request the Discovery Pass
5. Your Pass accompanies you during your stay to benefit from reduced rates or advantages with other partners.
6. Your Pass is valid from April until the end of the year, subject to the opening periods of partner sites.
The partners of the Discovery Pass…
> Cognac hotel circle
> Cognac river cruises
> X'eau aquatic center
> Châteauneuf Vibrac Canoe Kayak
> Cognac Canoe club
> Barge 'the Renaissance'
> Jarnac sport Canoe kayak
> Daily boat rental
> West Charente Outdoor
> Planet ski
> André Mermet outdoor base
> Trott'in Charente
> V-bike
> Cognac Camus
> Otard Royal Castle
> Circuit of the oak
> Courvoisier
> Domaine Remy Martin
>Hine
> Hennessy visits
> Martell
> Meukow
> Bassac Abbey
> Martell Foundation
> Birthplace of François Mitterrand
> Museum – Mitterrand donation
> Cognac Art and History Museum
> Cognac Arts Museum
> Museum of popular arts and traditions
> Cognac city of art and history
> Getaways
> Itineraries of time

> Saintes Hotel Circle
> Watercolor Aquatic Center
> Palissy III Cruises
> Gabare 'City of Saintes'
> La Paillote de la Baine canoe rental; paddle
> Donkeys of reverie
> Fontdouce adventure park
> Adventure outings
> Domaine Tesseron eco-museum
> Ladies' Abbey
> Fontdouce Abbey
> Gallo-Roman amphitheater
> Archaeological Museum of Saintes
> Alderman's Museum
> Dupuy-Mestreau Museum
> Paleosite