Add to favorites
The South Charente is a beautiful countryside of quality and taste in the immediate vicinity of the cities. Between villages and valleys, discover the charm of our destination with changing skies, located in the heart of the Charentes. Good times are simple, time lasts a long time.
South Charente provides an inspiring breath, rests the hearts and airs the minds.
Here, we take off in a hot air balloon, we descend the rivers in a canoe, we survey rural roads on bicycles and we offer ourselves beautiful bubbles of decompression. You will be pleasantly surprised by the quality of the encounters you will make there. With passionate professionals and inhabitants proud of their land who will share their little treasures with you.

Welcome to our beautiful campaign, active, close, which opens minds and spreads good vibes.
5 essentials for an immersion in the South Charente
Aubeterre-sur-Dronne, "Most Beautiful Village in France", and the highest underground church in Europe!
Barbezieux-Saint-Hilaire, an unmissable "stopover village" on the holiday route
Unexpected castles
The Château de Chalais: welcome to Yves Lecoq!
The Château de la Mercerie: the little Versailles of Charente that has all the big stuff!
Villebois-Lavalette castle: the real castle of knights and princesses
Guizengeard and Touvérac lakes : a haven of peace with unreal colors in unspoiled nature.
The Manor of Maine Giraud : ver(res) of poetry in the former domain of the poet Alfred de Vigny.
Unforgettable experiences!
Hot air balloon flight above the hills with Charente Montgolfières
In the shoes of a cellar master at Domaine Conte et filles
Taste a charentais firebrand, an ancestral encounter between Cognac and coffee
Attend a show at the Château de Barbezieux
Safari in South Charente : incredible but true !
Escape by canoe-kayak at dusk
Explore 300 varieties of trees at the Conservatory of Fruit Memories of Charentes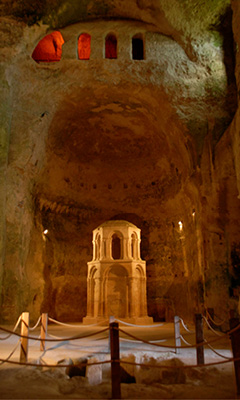 The best spots for selfies: The quarries of Guizengeard with surprising Caribbean airs!


The best picnic spots: Le Moulin du Perdrigeau in Bors de Montmoreau and its 360° view of the southern Charentais villages

The best walks with children : Discovery of the René Carré farm and the vineyard by little train in St Vallier

Not to miss : The amazing St Jean underground church in Aubeterre-sur-Dronne