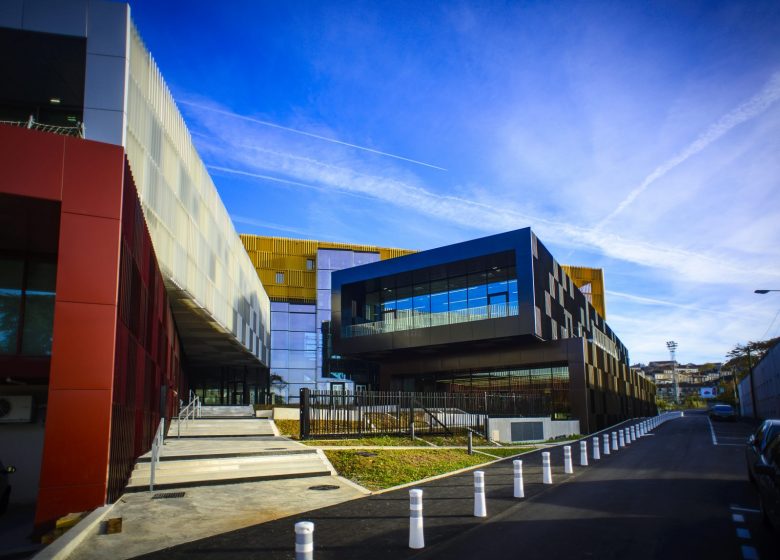 Why we love
Alpha is at the heart of a network of 22 local media libraries in the GrandAngoulême conurbation.
Designed by Françoise Raynaud from Loci Anima, the Alpha offers unprecedented views of the territory through the stacking of its 5 boxes forming an A towards the sky... the A of the Alpha.
A real place of relaxation and leisure for individuals, families and groups, L'Alpha offers a multitude of services accessible to all and free of charge: an unprecedented documentary offer in Charente bringing together 150.000 documents on one site, access to resources in line, rooms and workspaces, a rich and diversified cultural program, a 90-seat auditorium, an exhibition hall associated with a café offering catering throughout the day (brunch on Saturdays) and a personalized welcome thanks to its 2 entrances (station side and Houmeau district).
The Alpha is the equipment that accompanies all users of GrandAngoulême throughout their lives: spaces designed for early childhood (temporary reception area for 18 months - 5 years old), furniture adapted to all disabilities (tele-enlargers, Braille keyboard, magnetic loops, etc.), workspaces and funds dedicated to employment and professional careers. Connected to the world of images and comics, L'Alpha offers a fund dedicated to comics (18 comics), a large collection of films and play areas for all gamers (video games, tablets, online games...).
Built around its 3 worlds Imagine, Create and Understand, L'Alpha is the place in GrandAngoulême where conviviality, culture, study and exchanges coexist in order to give each citizen the opportunity to better create, imagine and understand their life.
COVID 19 special provisions
From July 21, access to the museum requires the presentation of a European health pass for all persons aged 18 and over. This obligation will extend to all persons aged 12 and over from August 30. The European health pass is obtained with proof: • of vaccination (complete vaccination schedule) • of a negative RT-PCR or antigenic test of less than 48 hours • of a positive RT-PCR test, of at least 11 days and less than 6 months, attesting to the recovery of the Covid See all the information on the health pass on the government website. If you come from a country outside the European Union and do not have a European health pass, you can present a negative RT-PCR or antigen test result less than 48 hours old. Upon your arrival, before the security checks, we thank you for presenting your QR code in paper or digital format from the TousAntiCovid application.
Opening
All year-round
Open Tuesday, Wednesday, Friday and Saturday from 10 a.m. to 18 p.m. Thursday from 30 p.m. to 12:18 p.m.
Prices
Free (except room rental).
Equipments & services
Reduced mobility
Adapted tourism
Accessible for self-propelled wheelchairs
Lift (80 x 130 cm) and door> = 77 cm