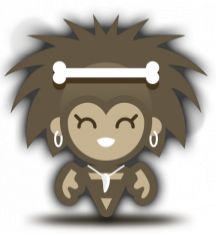 Why we love
100% family game and 100% free!
Discover a surprising heritage by participating in this "geocaching" rich in twists and turns!
From 7 to 77 years old, go on an adventure in the Echelle valley, 6km - more than 2 hours.
Equipped with an Apple Store or Google Play smartphone, discover the new "Prehistory" course in Sers and flush out the "Zilex" Poï'z.

Zilex: Poï'z caves, Zilex does not neglect his look!
Lou-ibex on the feet and poncho in woolly rhinoceros hair, Zilex and at the top of the food chain!
Armed with a doctorate in Prehistory-Geo, Zilex goes through the theory of evolution and the laws of natural selection in less time than it takes to tell. Go meet her, she has a mouthful!
Opening
All year.

Canceled or closed.
Equipments & services
Activities on site
Pedestrian sports
Geocaching
See more