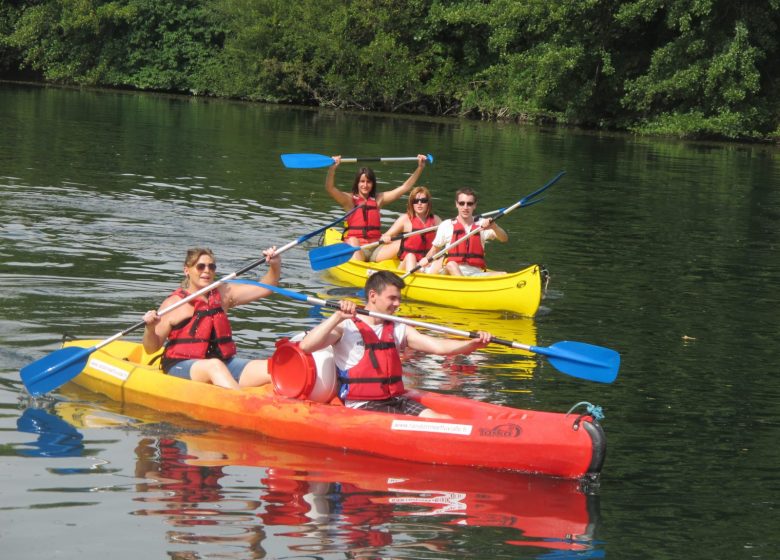 Why we love
Rental of motorboats without a license, by the hour, day or half-day, as well as canoes, kayaks, stand up paddles, pedal boats.
From 1 hour to a day or more, with the possibility of return transport (by the day)
Safety equipment provided.
Opening
From 15/04 to 30/09/2023
Open every day from 10 a.m. to 12 p.m. and from 14:30 p.m. to 19 p.m.
Pricing
Stand Up Paddle: 1 hour: €15 - 2 hours: €20 - 4 hours: €30 per person.
Canoe or kayak: 2h: €14 - 4h: €18 - 8h: €24 per person.
Pedalo: 1 hour: €21 - 2 hours: €33 - 4 hours: €45 per pedal boat
Retro boat: 1h30: €70 per boat
Rando boat 2 people: 1h30: €45 - 4h: €78 - 6h: €90 - 8h: €124
Rando boat 3 people: 1h30: €50 - 4h: €87 - 6h: €102 - 8h: €137
Rando boat 4 people: 1h30: €55 - 4h: €96 - 6h: €114 - 8h: €150
Rando boat 5 people: 1h30: €60 - 4h: €105 - 6h: €126 - 8h: €163
Rando boat 6 people: 1h30: €65 - 4h: €114 - 6h: €138 - 8h: €176
Rando boat 7 people: 1h30: €70 - 4h: €123 - 6h: €150 - 8h: €189
Equipments & services
Activities on site
Water sports
Tourist transport
Boat trips
Canoe / kayak base / Rowing
See more
Accessibility
Adapted tourism
Wheelchair accessible with assistance
Physical disability
Pedalos and motorboats without a PMR accessible license