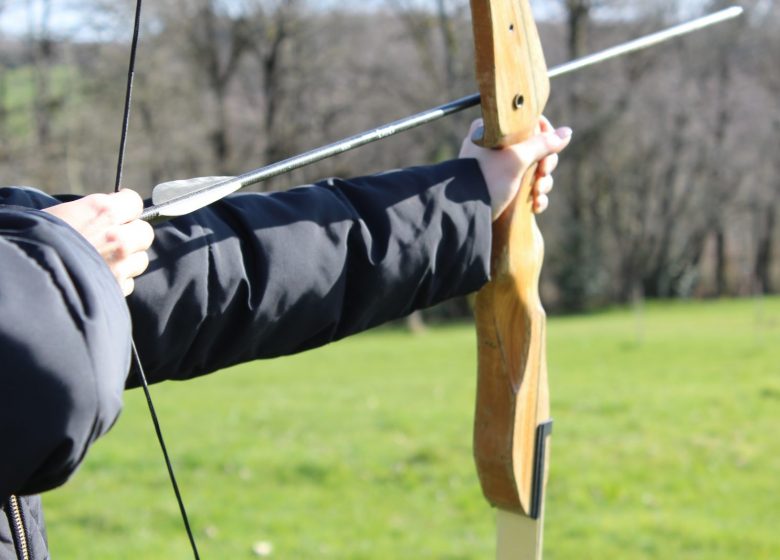 Why we love
A fun, sensory, technological, innovative journey. Amateurs or experienced, everyone can try their luck. Alone, with the family or in a group, amateur hunter or shooter, this course has been set up for your pleasure!
L'Arc d'Or is an association of animation offering the practice of archery in the middle of nature with a breathtaking view of the Montbronnais. The sloping course is ideal for all archers from beginner to advanced.
On 4.5 hectares, 45 realistic 3D targets are placed in the meadow or in the trees. Due to the configuration of the terrain, the archers have several shooting possibilities on the same target.
- Confirmed archers, evolution in complete freedom on the course, only traditional bows are accepted.
- Initiation, from 5 years old. Bow and power adapted to the archer. Shooting distance from 5 to 30 meters.
- Shooting the flag; shoot arrows over a long distance (up to 120 meters) and place them as close as possible to a landmark.
- In summer, night possible.
- 3D, fixed foam animal target shooting.

A real adventure game between meadows and forests to play William Tell or Robin Hood!
Loan of equipment included if necessary.

Canicross activity possible for 1 euro.

New!!!
Like Biathlon, Run Archery is a combined discipline.
However, it remains accessible to all!
This activity is very suitable for team challenges, seminars, team building, or multi-company and can also be practiced individually. Sportswear is recommended for practical reasons (basketball, shorts, tracksuit or leggings, etc.)
For this animation, we'll simplify the basic rule of Run Archery as follows: A starting line, a hand-held bow, an easy running circuit, and a run. An archery range with targets. The arrows will already be on the shooting range, in studs, for security reasons.
Run the circuit at your own pace, bow held in hand, stop at the shooting range, shoot 4 arrows (depending on the number of people) in a standing position and hit the targets; if the targets are not reached, there is a penalty and an additional marked loop in running then resume the marked circuit. Then do a second lap of the circuit to return to the firing point.
The second shot will be made with one knee on the ground (close to biathlon) with the same rule of one round of penalty per missed target and again resume the circuit until the finish. The winner being of course the one who crosses the line first
The circuit and the archery range are very flexible according to the type of public.
Archery, 3D, Nature, Countryside. Archery.
Prices
Price

Single price

From January 01, 2023 to December 31, 2023

maximum € 10

Reduced price

From January 01, 2023 to December 31, 2023

maximum € 5
Initiation: discovery of nature shooting and 3D shooting (4h): 1 person €50 - 2 people €70 - 3 people €90 - 4 people and + €25/person.

Pass: Season €80 (from 1/06 to 30/09 inclusive). - Annual 150 €
Equipments & services