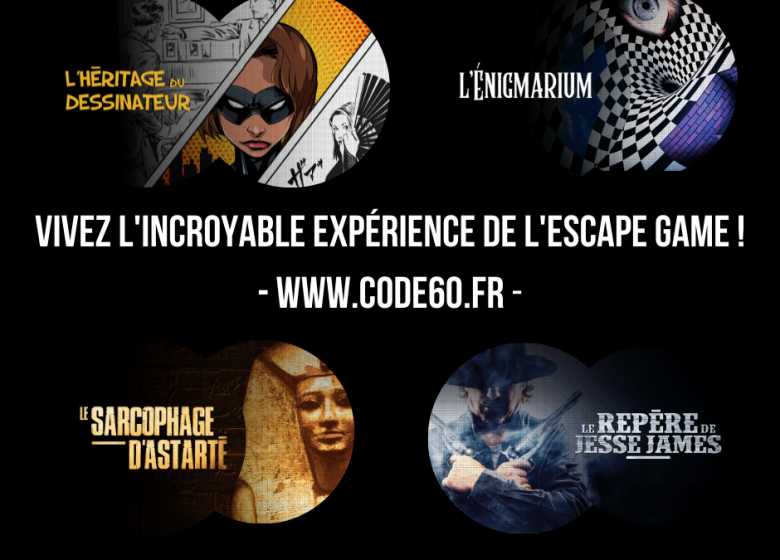 Why we love
Do you dare to take up the challenge?
Lock yourself in a room, you have 60 minutes to find clues, solve puzzles and complete a mission to escape as quickly as possible.
Immersed in striking settings, dive into the heart of a thrilling intrigue of which you are both the hero and the key to the enigma!

Room The Legacy of the Draftsman
The greatest cartoonist in the world died tragically, he was your uncle and wished before his death, to see you inherit a comic strip of inestimable value, coveted by many more or less well-meaning collectors. The will not having been drawn up before, it is his Notary and best friend who will make you return to his house to go and recover this board.
Finding the code to his safe will not be easy because his house will take you on a journey, but be careful, you will only have 60 minutes before the house is put up for sale... and your inheritance is gone!

The enigmarium room
The enigmatic Facetius remained a big child. His life is guided by the absurd, the game and the illusion. To the most curious visitors, it opens the doors to its astonishing collection of fantastic universes.
Only then, Facetius hates living alone. If the players he watches from his observatory do not find their way out before the allotted time, they will be imprisoned and serve as toys for the next visitors.
So have fun, but have fun fast!

Room The sarcophagus of Astarte
Professor Alban Tournesel discovered that Tutankhamun had a hidden son. Following this discovery, he mysteriously disappears. You are the professor's best students and must find his trace in Tutankhamun's pyramid. Will you escape the traps of the pyramid?

Room Jesse James' Lair
You have decided to play poker against the greatest villain in the West. You shouldn't have... A few days ago you went out to play poker against Jesse James and his gang. And you were in luck that night. You have won the jackpot! The problem ? Jesse James hates losing money. In revenge, he had you kidnapped by his henchmen! You have two choices: wait for death with dignity or try to escape.



Escape Game Mobile: Cognac, the dangerous greed (up to 60 players)
You are, without a doubt, the best cellar masters in the world.
You got together a few months ago to develop the recipe for the best cognac ever made. Last night, when you were secretly gathered in your laboratory, you were put to sleep and kidnapped by goons. You wake up in a room, all handcuffed to a barrel. Your captors will soon return to interrogate you and obtain what they came for. You have 45 minutes to free yourself.

Explosive Mission Room
You have been working for the C-6TY agency for several years. After a long shadowing, the name of the most wanted hacker suddenly reappears in a biological weapons case.
Having followed his trail to the airport and thinking that he would take action here, you come face to face with him at the bend of a service corridor. His men have neutralized you and locked you in a building in the heart of the city. With only his suitcase and a mysterious piece of luggage as his only objects, you only have one hour left to neutralize the threat and save the world from a deadly virus that will kill millions of innocent people.
Free information :
3 people minimum
Opening
From 01/01 to 30/12/2023
Open Wednesday, Thursday, Friday, Saturday and Sunday from 9 p.m. to 12 p.m. and from 14 p.m. to 18 p.m.
Closed Monday and Tuesday.
Mandatory reservation.
Prices
Price

Single price

From January 01, 2023 to December 30, 2023

Depending on the number of players.

maximum € 30
3 players: €30 per person
4 players: €26 per person
5 players: €24 per person
6 players: €22 per person
Payment options
Cheque
Bank / credit card
Cash
Online payment
Vacation check
Bank transfer
Equipments & services
Reduced mobility
Adapted tourism
Accessible for self-propelled wheelchairs