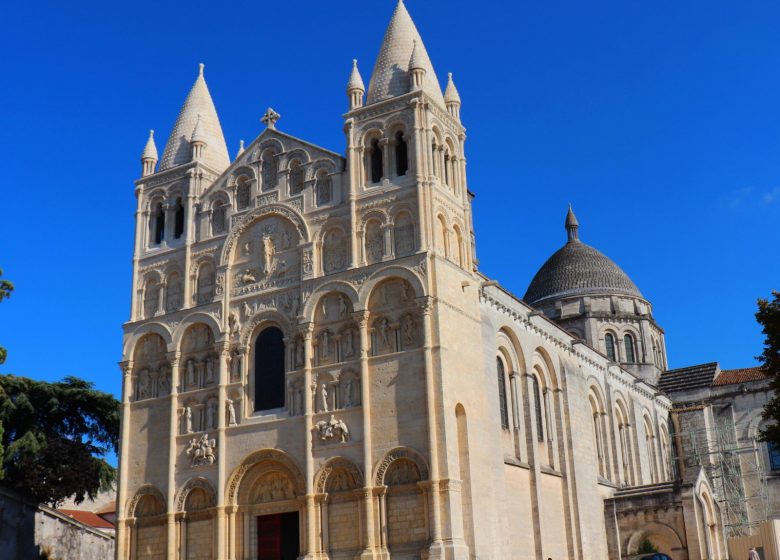 A Romanesque cathedral!
The architect Paul Abadie fils undertook a vast restoration campaign in the 2000th century. Since XNUMX, embellishment and restoration work has continued.
Saint-Pierre Cathedral, standing proudly on the edge of the plateau, has been listed as a Historic Monument since 1840. The exceptional quality of its architecture and its sculpted program make this 2008th century Romanesque building an essential destination for lovers of medieval art. Its restoration - begun in XNUMX - is coming to an end, giving the opportunity for an exciting (re)discovery.

Saint-Pierre d'Angoulême is the work of Girard de Blay, a powerful bishop from the beginning of the 1110th century who wanted to make the cathedral the setting and the symbol of his ambitions. The construction site lasted from 1136 to the death of Girard in XNUMX.
In the 1812th century, the cathedral was saved by Paul Abadie fils (1884 - 1852). The architect - who was also the architect of the Basilica of the Sacred Heart of Montmartre in Paris - tirelessly directed the first major restoration works from 1875 to XNUMX.

About twenty meters high, the screen facade with arcades, featuring several dozen sculpted figures, is a masterpiece of Romanesque art from the South-West. Like a nod to today's Angoulême, International City of Comics and Images, it evokes a large illustrated book where characters surrounded by arcades form the beginnings of a very first comic !

Romanesque architecture is said to be a result of experimentation. The interior of Saint-Pierre Cathedral shows us once again! Here, there is no dark barrel-vaulted nave or narrow aisles… everything is light, space and amplitude. Since 2016, the Treasury has benefited from a breathtaking scenography, the work of internationally renowned visual artist Jean-Michel Othoniel.
Visit
Individual visit services
Unguided individual tours permanently
Opening
All year-round
Open every day from 9 a.m. to 18 p.m.
Closed at 17 p.m. in winter.