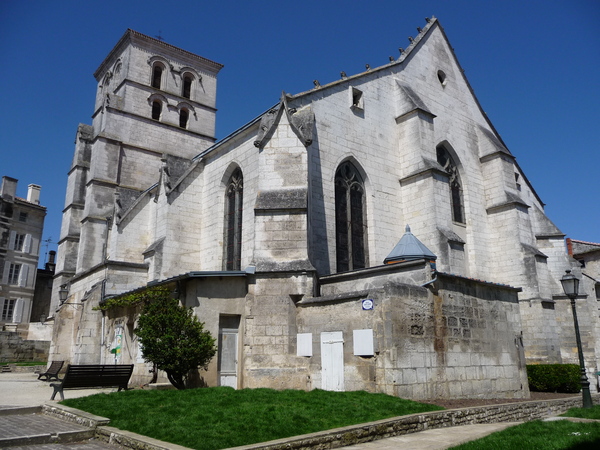 Located in the heart of old Angoulême, Saint André is one of the oldest churches in the city.
Successive construction campaigns, there remains a Romanesque front nave preceding a vast Gothic ensemble. The façade facing the street was built by Paul Abadie senior in neo-classical style in 1825.
The church has a rich furniture:
- From the XNUMXth century: the pulpit and the altarpiece.
- From the XNUMXth century: the organs.
- From the XNUMXth, XNUMXth and XNUMXth centuries
: painted canvases.
Portrait
In 1020, the count of Angoulême, Guillaume II, gave the church to the abbey of Saint-Amand de Boixe, which founded a priory there. Nothing remains of this building, rebuilt in the 12th century. The eastern part of this construction was replaced, at the end of the 15th century, by a church with three naves. In 1568, the Protestants knocked down all the vaults, except that under the bell tower. These were not rebuilt until 1668. Three bays of the 12th century church form the narthex. The side walls are adorned with blind arches, with broken arches, resting on a bundle of three columns. Sculpted motifs, probably coming from the destroyed part, were embedded to the west of the dividing wall of the Gothic construction. The broken barrel vault was redone at the same time as the others. A gallery was erected on the back of the facade in 1821. The eastern part of four bays consists of a nave and aisles, ending in a straight wall. Two chapels were opened in the aisles at the start of the 16th century, one in the north-west bay, the other in the third south bay. The bell tower is divided into two floors by cords. Its faces are pierced with two openings whose jambs are molded into small columns.
Visit
Individual visit services
Unguided individual tours permanently