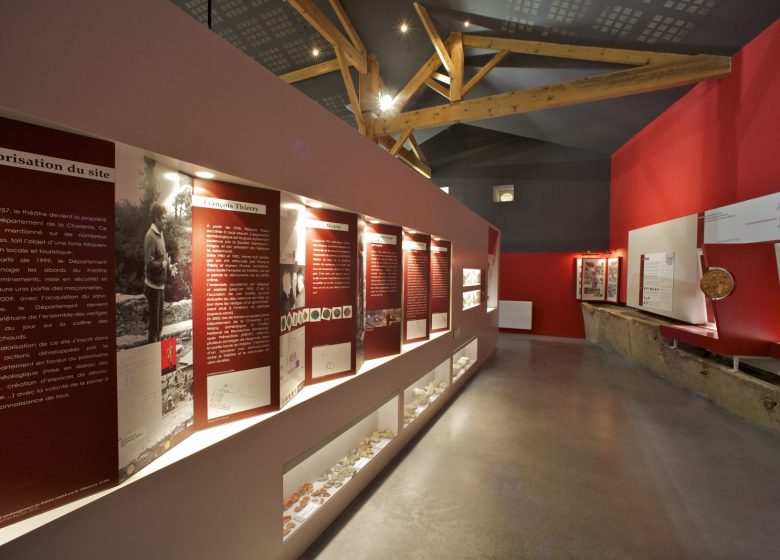 The Gallo-Roman Interpretation Center will give you all the keys to understanding the archaeological site of Les Bouchauds. The Bouchauds site is located in the town of Saint-Cybardeaux, a few kilometers from the town of Rouillac.
It consists of two elements:
- the archaeological site which, to date, includes a sanctuary and one of the largest Gallo-Roman theaters in France.
- the Gallo-Roman Interpretation Area.

Before exploring the Gallo-Roman site of Les Bouchauds, come and visit the Gallo-Roman Interpretation Center. Housed in an old Charente farmhouse built in 1846, this space presents drawings, models, and videos that will give you the keys to understanding the archaeological site.
After your visit to the interpretation area, go to the Bouchauds hill for a visit to the archaeological site which is one of the most beautiful Gallo-Roman sites in France. Indeed, the theater is one of the largest in rural Gaul.
Added to this is the incomparable charm of the site, the best example of which is the view you can have of the surrounding landscape, once you are at the top of the Bouchauds hill.

The archaeological site is freely accessible all year round. The interpretation space is open during school holidays.
Visit
Average duration of the individual visit: 105 min
Average duration of the group visit: 105 min
Customers
Cyclists
Special family with children
hikers
Mountain bikers
Bikers
Groups welcome
School groups welcome
Business / incentive groups welcome
Cycle 1: nursery school (PS, MS, GS)
Cycle 2: elementary school (CP, CE1, CE2)
Cycle 4: college (5th, 4th, 3rd)
High school
Reception of summer camps
Children from 3 to 5 years old
Children from 6 to 12 years old
Young people from 13 to 17 years old
Higher Education
Cycle 3: elementary school (CM1, CM2)
Cycle 3: college (6th)
See more
Individual visit services
Unguided individual tours permanently
Guided individual tours on request
Group visits services
Unguided group visits on request
Guided group tours on request
Opening
From 12/04 to 23/04/2023
Open Wednesday, Thursday, Friday, Saturday and Sunday from 14 a.m. to 18 p.m.

From 01/07 to 03/09/2023
Open every day from 10 a.m. to 13 p.m. and from 14 p.m. to 18 p.m.
Exceptional closures on July 14 and August 15.

From 25/10 to 05/11/2023
Open Wednesday, Thursday, Friday, Saturday and Sunday from 14 a.m. to 18 p.m.
Exceptional closings on public holidays.
Prices
Price

Full price

From 12 April 2023 to 23 April 2023

maximum € 3

Reduced price

From 12 April 2023 to 23 April 2023

Gîte de France or Pass'etape

maximum € 2

Adult group

From 12 April 2023 to 23 April 2023

Guided tour (+10 people) of the site and the interpretation area
Guided tour (+10 people) of the site
maximum € 3

Full price

From 01 July 2023 to 03 September 2023

maximum € 3

Reduced price

From 01 July 2023 to 03 September 2023

Gîte de France or Pass'etape

maximum € 2

Adult group

From 01 July 2023 to 03 September 2023

Guided tour (+10 people) of the site and the interpretation area
Guided tour (+10 people) of the site
maximum € 3

Full price

From October 25, 2023 to November 05, 2023

maximum € 3

Reduced price

From October 25, 2023 to November 05, 2023

Gîte de France or Pass'etape

maximum € 2

Adult group

From October 25, 2023 to November 05, 2023

Guided tour (+10 people) of the site and the interpretation area
Guided tour (+10 people) of the site
maximum € 3
Payment options
American Express
Bank / credit card
Cheque
Cash
Services
Reduced mobility
Adapted tourism
Wheelchair accessible with assistance