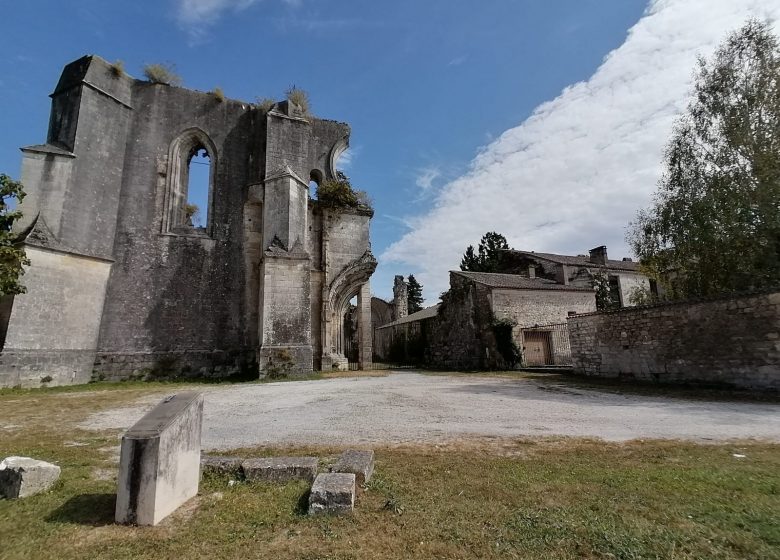 The abbey of La Couronne, a site classified as a historic monument, today in ruins, is an exceptional monumental ensemble for its architecture and its history recounted since its origins by two chronicles from the XNUMXth century and the XNUMXth century.
The site belongs to two different owners: the dwelling, the main courtyard, the monastic buildings, the park and its surroundings to the Ciments Lafarge establishments, and the cloister and the abbey belong to the Department of Charente.
It was in the first half of the 1118th century that chaplain Lambert, also called "the blessed" (the story goes that in his youth, he went hunting and killed a dragon that was ravaging the country) decided to bring together a few priests to devote themselves to regular life and founded the first abbey in Romanesque style. Construction began in 12. Work was carried out quickly and on March 1122, XNUMX, the monks (of the regular order of Saint Augustine) moved in in the presence of Bishop Girard de Blay and the Count of Angoulême.

From its creation, the abbey was a great success: a new church was built at the end of the 1171th century (choir and nave: 1194-1201; the end of the construction site was slowed down by wars, famines, etc.): it was consecrated in 12, in the presence of the Archbishop of Bordeaux. The convent buildings were also renewed at the end of the 13th and the beginning of the XNUMXth century: cloisters, dormitory, refectory, infirmary,...

A surrounding wall surrounds the abbey. During the 1450th century, enrichment of the furniture, construction of the Saint-Nicolas chapel and erection of the bell tower. During the Hundred Years War, the monks are dispersed, the bell tower collapses (1514). At the end of the XNUMXth century, the abbey was reborn: part of the collapsed church was rebuilt, a new abbey dwelling was built (the work was completed after XNUMX).

The Wars of Religion affected the abbey again: it was looted in 1562, part of its furniture was burned. The conventual buildings were restored from 1571.

At the beginning of the 1644th century, the abbey, which had only eight monks left, was united with the Jesuit order; it was then placed under the obedience of the congregation of Sainte-Geneviève in 1750. In the 1773th century, a final campaign of work transformed the convent buildings. Abbot Louis de Bompar (1756-1760) notably carried out large-scale works between XNUMX and XNUMX with the development of the main courtyard.

Sold as national property after the Revolution, the remains of the abbey church were used as a quarry until their classification as Historic Monuments in 1904. This protection was extended to the entire site in 1999.