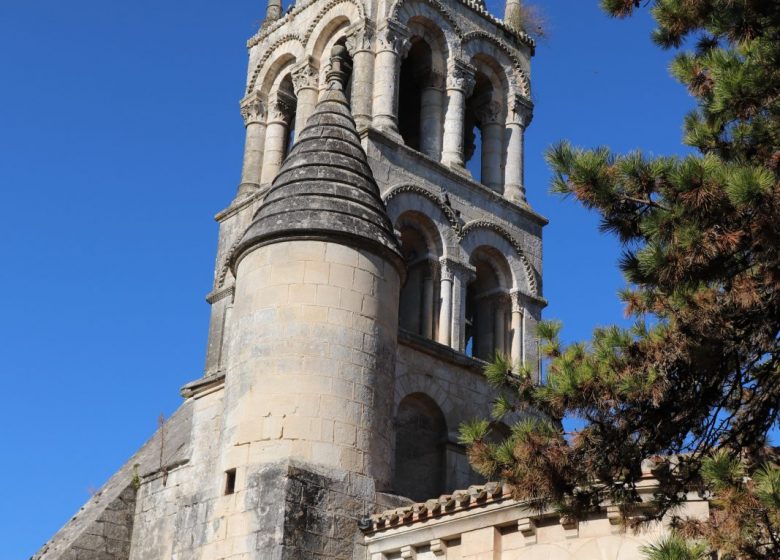 Notre Dame de Trois Palis church in the town, located near an artisanal chocolate factory.
The conical spire covered with scales of pine cones which rises above the square steeple can be spotted from afar. It overlooks a small Romanesque building located in the heart of the town.

Its facade is divided into three floors: At the top, in the triangular gable wall, Christ in Majesty is surrounded by the tetramorph (set of the four symbolic representations of the evangelists: the bull of Saint-Luc; the eagle of Saint-Jean; the Saint Mark's lion; Saint Matthew's angel). This theme is directly inspired by the Saint-Pierre cathedral in Angoulême. The central space, between the gable and the portal, is occupied by high modern reliefs representing Christ surrounded by the Virgin and Saint John. On the ground floor, the sculpture made of foliage and animals is present on the arches of the portal.

Restored in 1891 century, the small Notre-Dame church has undergone profound modifications. A semicircular apse replaced a flat chevet and the nave was vaulted.

Inside, the building consists of a single nave, divided into three bays. The walls of the nave are lined with large broken arcades. The south wall of the nave is pierced with three bays, while the north wall is blind. In the extension of the nave, a span under the bell tower deserves attention. The columns arranged in this space are all endowed with a rich sculpted program that develop in the capitals. They are all historiated and represent the themes frequently displayed near the sanctuary: original sin and the struggle between Good and Evil.

The semicircular apse replaced a flat chevet in the XNUMXth century. It is vaulted in the bottom of the oven.

Listed as a Historic Monument in 1886.

Open daily from 9 a.m. to 17:30 p.m.
Visit
Individual visit services
Unguided individual tours permanently
Opening
All year round, daily from 9 p.m. to 17:30 p.m.