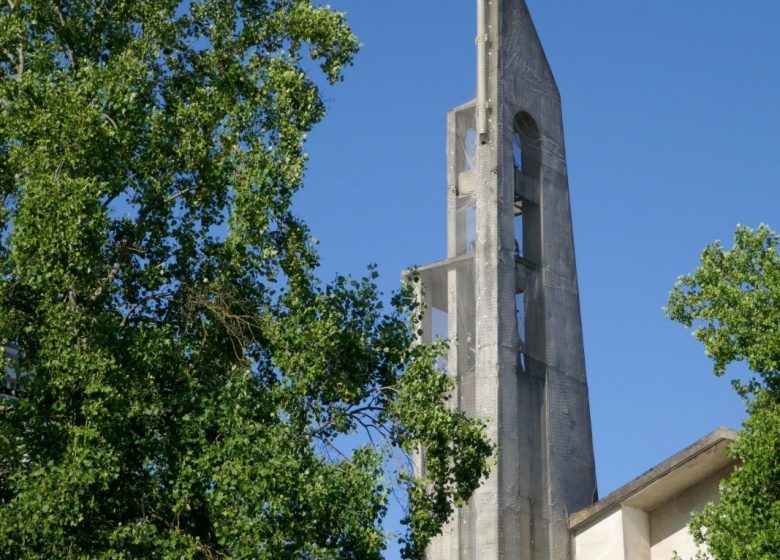 The church dedicated to the Sacred Heart is located in the Victor Hugo district. Work began in 1925 and the church was finally consecrated in 1957.
Projects to build a church, from 1885, in the Bussate district, were thwarted by multiple events: separation of Church and State in 1905, the Great War of 1914.
In 1925, the work had barely begun and was interrupted until 1939 when the Second World War began.
The initial project was taken up and transformed by the architect Pierre LALIARD in 1953-54 who designed a wide and vast nave covered with a double-pitched roof supported by thin concrete porticoes.

Architect and member of the commission of sacred art, Pierre LALIARD, built for more than 30 years 8 churches or chapels, building in 1948 a monastery for the Carmelites of Cognac, a monastery a church for the contemplatives of the Good Shepherd. We owe him many restorations: the choir of the Saint-Jacques de L'Houmeau church, the Saint-Roch chapel, the Bassac abbey, the Sainte-Marie school in Chavagnes.
The construction of the churches of Notre-Dame de la Route in Saint-Yrieix, Notre-Dame de la Paix in Gond-Pontouvre, Saint-Joseph artisan in Soyaux, Sainte-Bernadette in Angoulême.

We owe him the work at the Saint-Paul school for the construction of the building (refectory and kitchens, classrooms upstairs).

The church was finally consecrated in March 1957 and opened for worship.
A new spire was laid in 2001.
The main facade of the church is extremely severe. The concrete veils, stretched in front of a stone wall, symbolize the contemporary envelope of the initial project.
Only a slender campanile brings a certain elevation.

This church is worth a detour for its stained glass windows made in two campaigns:
The stained glass windows by master glassmaker Gérard Lardeur (1931-2020), visible in the nave, were blessed in 1966 by Monsignor Pouget. The simple colored glass imagined by the architect Laliard to enliven the nave was replaced by the non-figurative creations of Gérard Lardeur. They strike first of all by their austerity. This bias is voluntary and echoes the search for silence, peace and contemplation.
The master glassmaker has pushed the expression of the lead to the point of giving it a presence and a volume that goes beyond usual use.
.
In September 2009, on the occasion of the celebration of the 50th anniversary of the building, the façade received a contemporary stained glass window 5,80m high and 2m wide, made up of 49 small panels of brightly colored glass representing the sacred heart and Christ whose head, hands and feet are embossed on stainless steel plates. We owe this work to the stained glass workshop of Anne Pinto from the original drawing of a parishioner.
Visit
Individual visit services
Unguided individual tours permanently