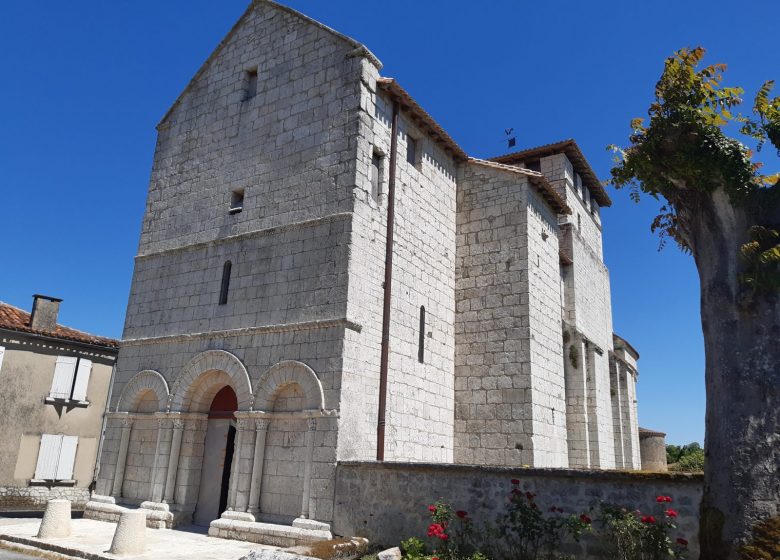 Notre Dame de Voulgézac church (XNUMXth century).
The Notre-Dame church is pleasantly located in the heart of the town. It retains a high value of authenticity as a whole. The plan adopted is common for the Romanesque period, in rural Charente buildings. A single nave of 3 bays; a false square topped with a dome on pendentives and a semicircular apse.
Built in the XNUMXth century, Notre-Dame was refurbished a century later and then in the XNUMXth century, the church underwent substantial work.
It belongs to the group of fortified Romanesque churches of which it is one of the finest examples in Charente. Its defensive architecture, and traces of fortification are visible from the outside. Like many other religious buildings, Notre Dame was a refuge for local populations during periods of unrest, the Hundred Years War and the War of Religion, when the castles, too damaged, could no longer ensure their safety.

The defensive device concerns the upper parts and the bell tower. Above the vaults of the nave a high room was installed. Its development required the raising of the side walls of the church and the gable of the facade, and therefore also of the roof, as well as the drilling of openings to provide lighting. From the nave, two spiral staircases provided access to this room of refuge. Access to them will be restored as part of the restoration to once again access the upper parts of the church.

The exterior visit of the church allows you to discover one of the most remarkable Romanesque chevets in Angoumois. Its vertical organization is made up of seven bays separated by six adjoining columns, its neat decoration comes in a series of arcades and a cornice decorated with seventeen corbels with various motifs: animals, faces of bearded men, women in headdresses, monsters, kegs... Near Voulgezac, the churches of Charmant, Mouthiers and Pérignac have adopted similar arrangements which tend to suggest that these bedside tables were designed by a common master builder.

Listed as a Historic Monument in 1903.