Add to favorites
Le 26th January 2022
From parents to children, the whole family likes to feast, so we suggest the activities and sites below. Take the opportunity to taste some typical Charentais products.
A farmers market
The Halles Centrales market and the Victor Hugo market are the most famous in Angoulême. For locavores, lovers of local or organic products... and for all those who like to go to the market with their family, you have to think local 16 : These markets guarantee you at least 80% Charente farmers. Fresh, seasonal and local products!

And to not miss any, you can consult the market agenda...
bucolic ride in a 2CV
Aboard the Domaine de la Chevalerie 2CV, take advantage of this moment to discover the vineyard followed by a tasting of our products in the vineyards. If only one word was needed to sum up the Domaine de la Chevalerie, it would probably be "vintage". Vintage, because Loïc is a young winegrower who loves authenticity and conviviality. A philosophy of life that he transmits to his visitors during rides in a 2CV, this mythical vehicle symbol of a certain French way of life. An oxygenating and intimate parenthesis that will continue with a tasting of the estate's cuvées in the middle of the vines. /!\ Reservations only from May to September.
Domain of Chivalry
Duration: 2 hour
Price: €25 /person. Free: children -15 years old
Max gauge: 3 people. By reservation only
You like to pick and harvest
come to Fabulette Picking, pick your own seasonal flowers, fruits and vegetables in Soyaux in Charente. Guillaume Gabard and his team welcome you to a 6.5 hectare garden, with 2000m² of greenhouses, located in the Anguienne valley. All year round they grow vegetables, fruits, herbs and flowers there, respecting the seasons and the environment. Remember to equip yourself with good shoes, a small knife or pruning shears, baskets or a shopping bag and off you go for a market gardening afternoon.
delicious cheeses
It is in a calm and peaceful countryside, rich in land dedicated to agriculture that the Jousseaume family has been established since 1958. With a breeding of 500 dairy goats and on a hundred hectares of land, natural foods provide the milk with the necessary assets to obtain a high quality goat's cheese, synonymous with the farmer.
Open and free visit without appointment every day during milking hours
8 a.m. to 9 a.m. in the morning and 17 p.m. to 18 p.m. in the evening at N°2 Impasse de chez Goin – 16440 Roullet St Estèphe
RN 10 exit n°66
tasting nuts, honey, or nougat…
In the summer period, Frank JUDET take you on a tour of his honey house, which allows him to share and introduce people to his profession as a beekeeper. You will learn all about the life of bees, from the development of a colony to the harvesting of honey. You will also be able to attend a demonstration of honey extraction as well as the entire decantation process.
It is with passion thatEric Truflandier continues the nuciculture activity created and transmitted by his father. The 21 hectares of walnut trees, spread over the town of Vouzan, are cultivated and maintained in Organic Agriculture. Thanks to nesting boxes, the tits delight in the insects that come to nest in the walnut trees. Visit of the farm, hiking in the walnut trees, local products processed on site and for the biggest discoveries of La Calagouille (beer flavored with alcohol nuts)…
The chocolate workshop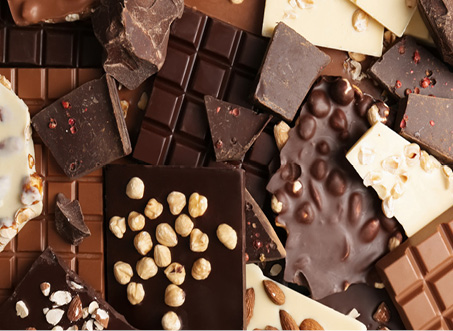 Angoulême has several chocolate factories with famous specialties, push the door of these gourmet temples. Immerse yourself in the heart of chocolate and get ready to live a strong cocoa experience by following the various workshops offered, under the expert eye of true chocolate artists.
The Letuffe chocolate factory
Duceau chocolatier

You can also discover the macaroons of The Lolmède biscuit factory
---