Add to favorites
Le 12th January 2022
First brandy cellars in 1857, The 11 main buildings whose gables form a sequenced façade, were transformed in 1910 into a felt factory for stationery.
Today, "Les Chais Magelis", located on the banks of the Charente, in the heart of the image district, have undergone careful rehabilitation. These old cellars, dating from the 2009th century, have been home since XNUMX to the comic book museum, operated today by the International City of Comics and Image.
The largest collection of original comic strips in Europe is preserved and presented to the public in the comic strip museum, installed since 2009 in the completely renovated building of the cellars.
Around the cellars: the image district
The image district revolves around the Hugo PRATT footbridge which connects the two banks of the Charente river. This district consists of the following structures:
The Moëbius ship (45)
The Paper Museum (46)
The statue of Corto Maltese (47)
The Magelis cellars (49) with the Comic Strip Museum and the Paradis studio
Dampierre Castle (50)
The Alsatian house (51)
The Magelis Image division
The "Kirikou" painted wall (52)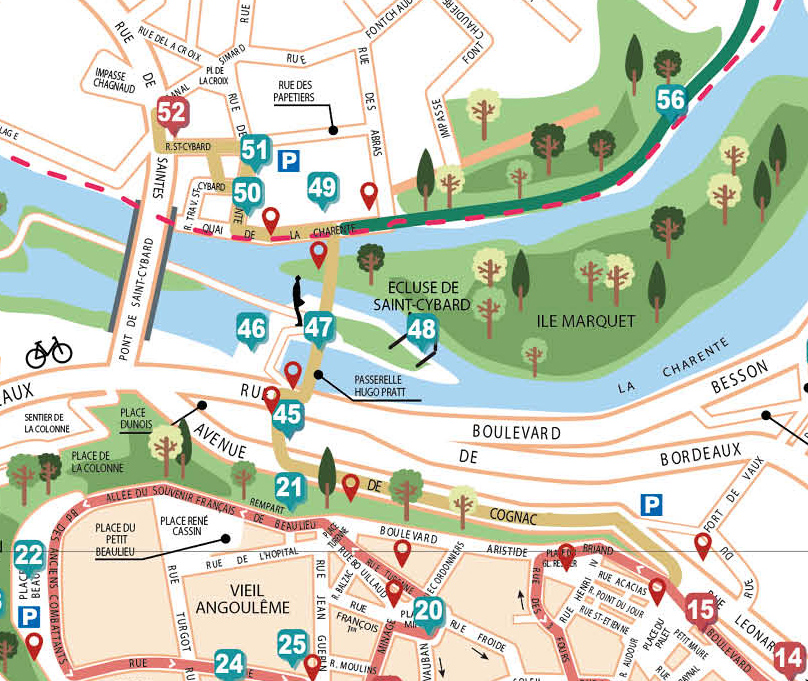 The Magelis image center
Aware of the need to carry out new large-scale industrial developments, elected officials gave life to the Syndicat Mixte du Pôle Image Magelis in 1997. This structure provides its expertise and high value-added skills to professionals in the fields of animation, comics, filming, video games and, more broadly, digital images.