Add to favorites
Le 31th December 2021
Are you totally "in Love" and do you want to find yourself just the two of you? We offer you an idea for a one-on-one weekend.
Program
Arrival Friday Evening
You arrive in Pays d'Angoulême by TGV or by car and settle in one of our charming accommodations.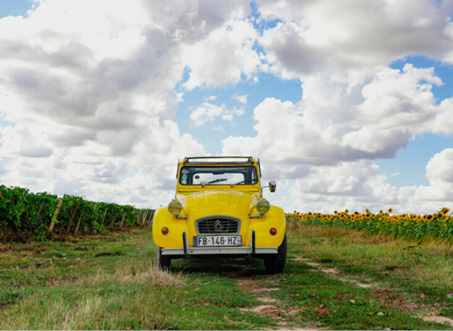 Saturday All day
2CV rental for a day on the roads of the Pays d'Angoulême.

1st step : The visit of Gardens of the Logis de Forge in Mouthiers sur Boëme. The site is labeled Remarkable Garden

For lunch, you can stop at the Café de la Boëme with its charming terrace located in the heart of the village.

2nd stage : At the beginning of the afternoon, we hit the road again and head west of the Pays d'Angoulême. The different cognac houses will show you around their estate (in safari mode for some) and offer you a tasting. The most far-sighted can even treat themselves to a discovery of the vineyard in a hot air balloon

3nd stage : Return to Angoulême for a last walk along the city walls or a chocolate tasting…. before getting ready for a one-on-one dinner.
Do not miss
The special Valentine's Day offers from our partners such as the Domaine du Châtelard or the Domaine des Etangs to be combined with the special Valentine's Day guided tour of Angoulême – In the colors of love
---