Add to favorites
Le December 10, 2021
In the series "Portraits of Pam", our reporter met Guillaume Veyssière, chef at the restaurant les sources de Fontbelle in Angoulême, 1 star in the Michelin Guide (November 2020)
How did you get the urge to cook?
Guillaume Veyssiere: I fell into the kitchen quite young, I remember when I was a scout I loved to imagine with my team dishes for the group, I like the notion of sharing.
I believe that a good chef must above all have heart and this shows in his cooking.
How would you define your kitchen?
Guillaume Veyssiere: My cuisine is the scenario of a region, we are lucky in our region to have exceptional products that can be worked endlessly! Like a composer, I tune flavors like musical notes.
Were you inspired by a chef or a region for your culinary creations?

Guillaume Veyssiere: From several chefs, because in each there is a different technique and know-how, but once again it is above all the product that will guide me.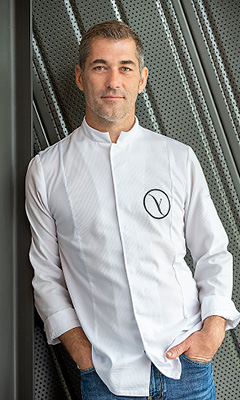 Your finest gastronomic encounter to date?
Guillaume Veyssiere: The next
Do you have a special memory in the kitchen to share with our Internet users?
Guillaume Veyssiere: I had the chance to spend good times with Pierre Gagnaire, Alain Passard and Regis Marcon with whom I spent four days in the kitchen and I will remember that after the service Régis Macron told us "We succeeded, the cooking is not the achievement of a single chef but of a team", this sentence has never left me and guides me every day in my relations with my team!
What recipe or achievement are you most proud of?
Guillaume Veyssiere: My "Charentais Casse-Croute" at the gastronomic restaurant in the menu "La Cotinière" and "La Vallée à la Cotinière".
What was your reaction when you got your star?

Guillaume Veyssiere: Receiving this distinction is for me a reward only after one year of opening. It is above all a recognition and the culmination of several years of work, I started this job very young.
This star given to me today, I especially want to share it with all the people who surround me on a daily basis, be it my team, my family and all our apprentices.
We miss the customers a lot because it is thanks to them too that we are starred today!
We can't wait to open to celebrate. We have a lot of surprises in store for the reopening, we are working on it a lot.